Tallahassee Tiger Sharks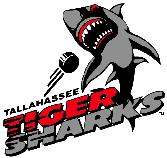 Brabham Cups (Regular Season Champions): None
Riley/Kelly Cups (ECHL Champions): None
Home Ice: Tallahassee-Leon County Civic Center
Media: Tallahassee Democrat
History:: Take a deep breath and get comfortable. This could be awhile. The Tiger Sharks are one of the 5 charter members of the ECHL. They started life as the Virginia Lancers in suburban Roanoke. They later became known as the Roanoke Valley Rebels and Roanoke Valley Rampage, and were characterized by poor management and worse play. Then in March of 1993, the roof caved in, literaly. The arena roof was damaged by the East Coast's Blizzard of '93, forcing the Rampage to scramble to complete the remainder of the season elsewhere. The team pulled into Huntsville, AL for the 1993-94 season as the Huntsville Blast. The on and off-ice ineptitude continued as management found itself competing for the local hockey dollar with another minor-league team, the Lasers, and the college team from Alabama-Huntsville. Mercifully, the owners sold out after one dismal season in Alabama, and the franchise was moved yet again to Tallahassee. The Tiger Sharks were an instant hit as merchandise and ticket sales took off for the first ECHL team on the Gulf Coast. Even today, the T-Sharks have some of the most devoted and passionate fans around.

Tiger Sharks Official Site

tsharks.com

Eric Fontano's Tiger Sharks PageHasn't been updated recently, but some great older stuff.

Wolfie's Vicious Fishes

Fin-Atics Booster Club

Hockey Central

Mandy's Tiger Sharks Page

Tiffany's Tiger Sharks Page

Red Light DistrictSome T'Sharks Player Profiles; Under Construction.

Huntsville Channel Cats Member of the CHL.
Back to the House of Hockey
Email: bamapepe@hotmail.com