Roanoke Express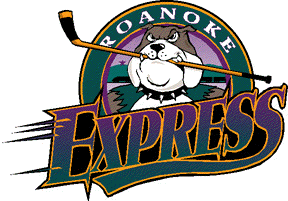 Brabham Cups (Regular Season Champions): None
Riley/Kelly Cups (ECHL Champions): None
Home Ice: Roanoke Civic Center
Media: Roanoke Times
History:: The Express is the second ECHL team to play in the greater Roanoke area, having started operations in fall of 1993. The Virginia Lancers were one of the charter members of the league, but poor management eventually drove them out of town. (See Tallahassee) The Express has proved much more competitive. They draw well and have steadily improved as a hockey team over the years. Rivalries with the other teams in the Virginias should keep hockey interest in the Roanoke Valley high for many years to come.

Express Official Site

WFO's Express Page

Roanoke Express Webring List Nice to see a team that is supportive of unofficial pages.
Back to the House of Hockey
Email: bamapepe@mailcity.com